Manti Teos Dead Girlfriend Hoax is just insane
Deadspin makes a shocking, breathtaking and insane case that one of the biggest stories of 2012, the death of Manti Te'o's girlfriend, was a huge hoax

UCampus

Posted on 1/16/2013
Just go read the entire piece. There's so much here you can't capture the depth of how insane this story is without just diving in and reading everything. If you really need an introduction to this story, it had been widely reported that Manti Te'o lost both his grandmother and girlfriend on the same day, within hours of Notre Dame's game vs Michigan State. The All-American Notre Dame LB not only played that day, but lead ND to a 20-3 win over Michigan State racking up 12 tackles in the win.
Deadspin can take it from there:
Did you enjoy the uplifiting story, the tale of a man who responded to adversity by becoming one of the top players of the game? If so, stop reading.

Manti Te'o did lose his grandmother this past fall. Annette Santiago died on Sept. 11, 2012, at the age of 72, according to Social Security Administration records in Nexis. But there is no SSA record there of the death of Lennay Marie Kekua, that day or any other. Her passing, recounted so many times in the national media, produces no obituary or funeral announcement in Nexis, and no mention in the Stanford student newspaper.

Nor is there any report of a severe auto accident involving a Lennay Kekua. Background checks turn up nothing. The Stanford registrar's office has no record that a Lennay Kekua ever enrolled. There is no record of her birth in the news. Outside of a few Twitter and Instagram accounts, there's no online evidence that Lennay Kekua ever existed.

The photographs identified as Kekua—in online tributes and on TV news reports—are pictures from the social-media accounts of a 22-year-old California woman who is not named Lennay Kekua. She is not a Stanford graduate; she has not been in a severe car accident; and she does not have leukemia. And she has never met Manti Te'o.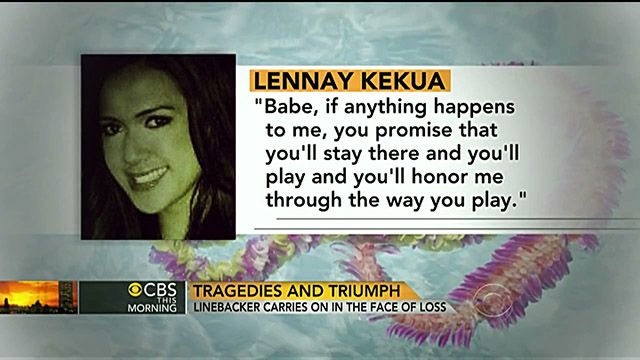 Just, holy shit. Go read the whole thing.
Update: Notre Dame's Statement:
On Dec. 26, Notre Dame coaches were informed by Manti Te'o and his parents that Manti had been the victim of what appears to be a hoax in which someone using the fictitious name Lennay Kekua apparently ingratiated herself with Manti and then conspired with others to lead him to believe she had tragically died of leukemia. The University immediately initiated an investigation to assist Manti and his family in discovering the motive for and nature of this hoax. While the proper authorities will continue to investigate this troubling matter, this appears to be, at a minimum, a sad and very cruel deception to entertain its perpetrators.

Dennis Brown
University Spokesman | Assistant Vice President
Update: Manti Te'o's Statement:
This is incredibly embarrassing to talk about, but over an extended period of time, I developed an emotional relationship with a woman I met online. We maintained what I thought to be an authentic relationship by communicating frequently online and on the phone, and I grew to care deeply about her. To realize that I was the victim of what was apparently someone's sick joke and constant lies was, and is, painful and humiliating. It further pains me that the grief I felt and the sympathies expressed to me at the time of my grandmother's death in September were in any way deepened by what I believed to be another significant loss in my life. I am enormously grateful for the support of my family, friends and Notre Dame fans throughout this year. To think that I shared with them my happiness about my relationship and details that I thought to be true about her just makes me sick. I hope that people can understand how trying and confusing this whole experience has been. In retrospect, I obviously should have been much more cautious. If anything good comes of this, I hope it is that others will be far more guarded when they engage with people online than I was. Fortunately, I have many wonderful things in my life, and I'm looking forward to putting this painful experience behind me as I focus on preparing for the NFL Draft.
SBNation also has a sad but hilarious list of media outlets that never bothered to like, ya know, look up if this girl was real.
comments powered by

Disqus